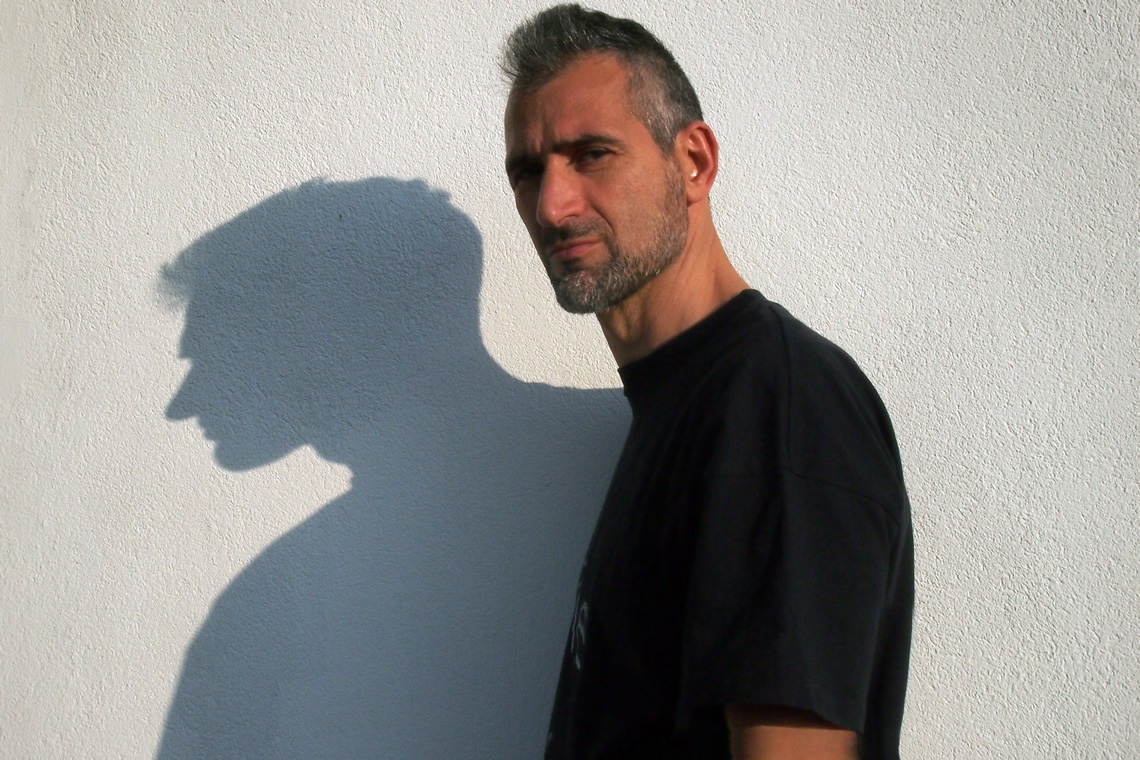 Born in 1966, of Italian origin, Paolo Topy started taking photographs at the age of 13. Two years later, his father gave him his first camera. Quite naturally, his immediate environment (parents, friends) served as models for his first photographic experiments, which were mostly portraits, surprisingly mature black and white nudes where some of his personal signature traits are already visible, overlain by his interest and admiration for the works of his elders. He already demonstrates a desire to bear witness to the beauty of the people around him, people he loves; a beauty that is totally disconnected from any aesthetic judgement. These subjects are beautiful to his eyes because he sees them as a child or young adolescent with the natural tenderness and admiration one holds at that age for one's emotional environment. The vision conveyed in these first clichés originates in his relationship with the world of handicap, which he was confronted with at a young age. As a witness to the ability of the disabled to develop other faculties and different forms of perception, he identified with this world on a subconscious level and spontaneously tapped into the 'handicapped' part of himself, and, as he would later explain, a certain fragility that enabled him to see beyond appearances, beyond artifice and convention and all judgement.
Later, with more maturity he realised how much the techniques he had learned from observing the photographers he admired required a certain form of accepted aesthetic appeal, which he viewed as a sort of neo-academic trend, so he started to design his own personal approach to photography. His subconscious made room for a more deliberate approach that he constructed gradually with experience. Thus, he managed to distance himself quickly from the influences and practices that had moulded his photography, and in so doing, from any stereotypes.
He was influenced by what he read, particularly by the work of Elsa Morante who described the reality of daily life with such acuity that he was led to question his approach to reality.
He continued to use black and white exclusively until 1998, when he took a final series of photos in Cuba that put an end to this initial phase of his work.
In order to get as close as possible to reality and to get used to perceiving it beyond appearances, he strategically decided to confront it in a corrupt form. At that time, he was already living in Milan where he had settled in 1990. The Italian fashion capital was booming. Fascinated and aware of the value that such an experience could bring to his research, he threw himself into a world where the fabricated image is at the heart of communication strategies. He naturally found work there as a professional photographer, which also brought in a salary. This experience drew his attention to the differences created by the codes inherent in the genre. The photographed subject represents an idealised, removed 'reality' that is ultimately contrived, almost fictional and very far from the desired result. Paolo Topy was comforted in his convictions – he, on the other hand, wanted to give free rein to a spontaneous mental construction without any calculation or aesthetic overkill.
His desire to approach reality in a more descriptive manner led him to a new process whereby he endeavoured to 'reveal' the world of the famous celebrities he used to photograph for his job. So all the elite of Milan paraded in front of his camera, exposed in such a way as to eliminate the veil of uncertainty. He was in fact looking for a very direct relationship with his subject, with no veneer or artifice. He wanted to photograph people as they were, behind their masks, eliminating any pretence.
It was around this time that he produced "Casting". This work composed of an ensemble of photographs reveals a very particular moment when the models auditioning during a casting session are still "raw material". Not yet made up or dressed, bathed in harsh lighting, they face the camera, unadorned, in their own underwear. This series emphasizes the commodification of the human body. Already, the personalities of the individuals have faded – they all look like one another. Their bodies are in a fixed pose, waiting for the moment when 'life' or rather, a mockery of life will give them an illusory existence during the space of one cleverly staged photograph. Who are these young women? Market forces do not care. And what about us? Are we still able to tell truth from falsehood, to escape from the marketing strategies used in advertising? These are the questions that the photographer puts to us in this series, which is neutral only in appearance.
From here on, the act of photographing became a head-on exercise where lighting revealed the reality of the subject in an exaggeratedly crude way. The work "Paride", a magnificent photograph showing a naked man on his bed in the foetal position, perfectly illustrates this. Topy's work on the nude was one of his longest wrought themes. His nudes do not in any way stem from a desire to reveal a certain crude, organic beauty but more the wish to show how these very bodies in their simplicity 'recount' and 'bear witness to' the deep humanity and personality of those who do not only inhabit them. They are that body, free of all social obligations and conventions.
In 1995, while he was in California he discovered the work of Nan Goldin at the San Francisco Museum of modern art. Goldin shot the story of her life, and beyond that, the story of an underground, marginal world. That such a work could be shown in a museum was a revelation to Topy, as well as the work itself.
Paolo Topy's strategy became clearer and more efficient. Like Nan Goldin, he exposed the ordinariness of a life, but contrary to her, he wanted to transform every one of his subjects into a 'celebrity', to get them into a museum or rather a very personal hall of fame.
From then on, in contrast to the high-profile subjects he had photographed before, aiming to reveal them in their truest reality, he started to photograph ordinary people whom he aimed to turn into celebrities through the vector of his work, revealing their 'handicap' or in other words their profound humanity. To him, these people were 'stars', their stardom an incongruous result of their anonymity and 'ordinary' life. He wanted to 'celebrate' them.
His work then revolved around the idea of a certain ordinariness with which he approached all aspects of the creative process. Thereafter he paid tribute to the 'ordinary'.
His work at the time was exemplary of these principles, like for example "Eufrasia" or the series "Hope".
The first series is part of a project focusing on the world of disability.
Imperceptibly, the image shifts, showing us a fellow creature, not physically or mentally challenged, but someone from a dream or fantasy world. The handicap is no longer perceived as such but rather as a strangeness that is hard to define. The person's difference takes on a magical, fairy-tale quality and is a source of fascination or attraction – the fascination and attraction that we have naturally, as a child, for imaginary worlds and the characters in them; for the 'other'.
The latter is a series of portraits where each subject was asked to close their eyes and make a wish. We ourselves are invited to make a wish, but also to look at others in a different way, particularly those we encounter in our daily lives and to whom we pay little attention. Here it is the caretaker of a building. For Paolo Topy it is precisely this change in the way we look at people and pay attention to others and to the ordinary aspects of life that can lead to the hope of a better condition for all.
His work is centred, among other things, around the treatment of colour; raw colour, rawer than actual reality so that one has "the impression one can touch them" as he likes to say. This type of colour has become mainstream since the 1950s and 60s and is the kind found on family photographs – these 'souvenir' photographs, taken during life's happy moments are nothing special from an artistic perspective, and it was precisely this 'nothing special' that interested him.
It became the object of all his attention. He attempted to create a 'method' that would make us forget the actual photographer and that stemmed directly from the act of photographing itself. Paolo Topy does not actually call himself a 'photographer'. He simply uses photography as a means to an end he wishes to attain.
In 2002, when he was commissioned to shoot models wearing the creations of fashion designers in a hotel, instead, he asked a caretaker and a chamber-maid to hold them with outstretched arms and display them. These photos, as much for their extraordinary staging as for the crude modus operandi were obviously not to the liking of the client, an important magazine, that astonishingly published them all the same.
In 2004, he left for Brazil to work on new projects, and then for New York in 2006.
In 2008 came the irrevocable separation –a separation long begun was now complete.
It was at this time that he created "America close-up", a series of pictures taken during the American elections when ordinary people, those that make up "the people" appear to be thinking as they contemplate Jasper Johns' Flag at MoMA, New York, thinking about the role of the elections in a modern democracy.
That same year, with "Stormy Time" he showed the apparent banality of a conventional pose and a "special moment": that of a young couple lending themselves to the tradition of immortalising a "happy" day in their life.
Currently he lives and works in Nice.
There he has completed the triptych "End" composed of three portraits of homeless men, "Fitness", "Exotica", "Everyday" and many more.
SOLO EXHIBITIONS
November 2022: ALL ABOUT ME
ARP Gallery (Paris, France)
May / June 2018: CORPUS
Area35ArtGallery (Milan, Italy)
April 2017: HUMANITAS
Duomo di Massa (Massa, Italy)
April / June 2015: EVERYDAY
Madoura, lieu d'art, d'histoire et de creation.
April 2012: LA PROSPETTIVA ROVESCIATA
Galleria Bertolt Brecht (Milan, Italy). With the Tatyana Perevozchikova's performance.
February 2009: DAS SCHWEIGEN
Farahzad Art Gallery (Milan, Italy).
November 2008: AMERICA VISTA DA VICINO – AMERICA CLOSE UP
Farahzad Art Gallery (Milan, Italy)
September 2006: WE CLOSED OUR EYES AND DREAMT OF A BETTER WORLD ("HOPE")
Museo della Triennale, (Milan, Italy)
April 2005: URBAN ROOT
Entrata Libera Gallery (Milan, Italy)
Nov / Dec 2004: NATURE
Floricolture Monticello B.za (Milan, Italy)
GROUP EXHIBITIONS
11th June/19th Septembre 2022: "Les fleurs du mâle"
Musée International Anatole Jakovsky, Nice, France
December 2016 / March 2017: "Le monde ou rien"
Madoura (Vallauris, France).
February 2016: "Clinic"
Thèm'Art#4 / "Fragilité" / Art contemporain & philosophie, La Garde, (Toulon, France)
June/Nov 2014: "Fitness"
"Biennale d'art contemporain de l'UMAM ». Chateau-Musée Grimaldi, Cagnes-sur-Mer, France.
April 2013: "End"
Photo Festival, Farahzad Art Gallery (Milan, Italy)
April 2012: "Stormy Time"
Photo Festival, Farahzad Art Gallery (Milan, Italy)
March 2011: "Un giorno di pellegrinaggio con i devoti di San Nicolay (Kirovskay oblast, Vyatka).
Poems by Tatyana Perevozchikova. Galleria bertolt brecht (Milan, Italy)
December 2008: "Il grande albero d'arte"
Galleria San Lorenzo (Milan, Italy)
2005-2007: "13 x 17"
Organised by Philippe Daverio and Jean Blanchaert,
Venezia, Biella, Potenza, Milano, Napoli, Pescara, Palermo, Bologna, Roma.
April 2005: "Sculpting the Void"
Presentation of the work: "Exit". Farahzad Art Gallery (Milan, Italy)
April 2004: "Staring Flowers"
Farahzad Art Gallery (Milan, Italy)
PRESS:
2000/2008:
Corriere della sera (rcs periodici)
La Repubblica (gruppo editoriale L'Espresso)
Patrimoni Milanofinanza (class editori)
W (Fairchild/Condé Nast)
Dnr (Fairchild/Condé Nast)
PUBLICATIONS:
ALL ABOUT ME , 2022.
Catalog published for the exhibition "All about me"
Paris, France
CORPUS , 2018.
Catalog published for the exhibition "Corpus",
Area35ArtGallery, Milan, Italy.
HUMANITAS
Regione Toscana, Consiglio Regionale ed., 2017.
Catalog published for the exhibition "Humanitas",
Duomo di Massa, Massa Carrara, Toscana, Italy.
EVERYDAY
Vallauris Golfe-Juan ed., 2015.
Catalog published for the exhibition "Everyday ", Madoura, lieu d'art, d'histoire et de création, Vallauris, France.
MISES EN SCENE
Cagnes-sur-Mer ed. 2014.
Catalog published for the UMAM Contemporary Art Biennal.
бродяга (Tramp)
Tatiana Perevozchikova ed. 2008.
13 X 17
Rizzoli ed. 2007. Italy.
Book published for a travelling exhibition.
WE CLOSED OUR EYES AND DREAMT OF A BETTER WORLD
Timberland ed. Milan, Italy. 2006.
Catalog published for an exhibition at the Triennale Museum of Milan.
SORRISI
Book published by Timberland ed. USA. 2005